Indoor Living Green Walls For Your Home or Business
We have partnered up with an award-winning global provider of turn-key water-efficient living green wall systems in Toronto tailored to your interior and needs. We will help you through the entire process from design, plant selection, sourcing, installation, and maintenance. Our team will help you choose and plan the right system for your circumstances so that you have a beautiful, thriving living wall in Toronto for years to come. Interested in installing a green wall for your home, office or institution? Terra Design is a Toronto-based biophilic design firm that will take care of the whole project from design to sourcing the plants and installation.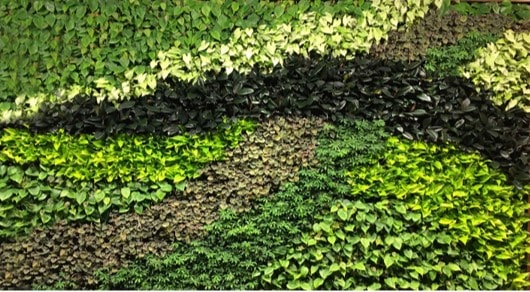 The Mobile Versa Wall© brings the benefits of plants to your indoor space without worrying about water and drain lines. It is a self-contained mobile Living green wall and includes lights, irrigation, and a smart controller. You only need to plug it in. It is ideal for open areas in offices, restaurants, hotels, conference space, or anywhere spatial adjustment is required. It can be two-sided, or for added functionality can be obtained with a whiteboard on one side.
Versa Wall with automatic irrigation
Our most popular product, it is great for commercial application and where there is access to water and electricity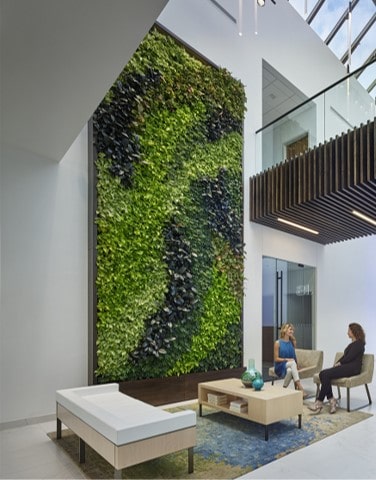 Add Natural Beauty and Life to Your Space With a Moss-Green Living Wall
Moss is a type of plant that grows in shady, damp areas. It is known for retaining moisture, making it an ideal plant for green living walls. Moss is also low maintenance and does not require fertilization or watering. Terra Design offers moss-green living walls in Toronto that can completely change the look of your home or office. Our panels are made from natural materials like preserved moss walls, and our installation process is simple and quick. We also offer a variety of colors and textures to choose from, so you can create the perfect look for your space.
Transform Your Space with a Living Wall in Your Space
At Terra Design, we understand the importance of creating a healthy and inviting space. That's why we offer living walls in Toronto, a unique and beautiful way to add greenery to your indoor or outdoor space. Living walls are modular planters that can be customized to fit any wall size or shape. They are easy to install and maintain and provide many benefits, including improved air quality, reduced noise pollution, and increased privacy. Living walls also create a visual focal point and can transform an ordinary space into a special oasis.
Bring the Outdoors in With Green Walls
Green walls are vertical gardens which offer many benefits for commercial and residential properties. At Terra Design, we specialize in building Green Walls in Toronto and have many options. Green walls can help improve air quality, reduce noise pollution, and provide insulation. They also offer a unique way to add greenery to your space. Green walls are easy to maintain and can be customized to fit your specific needs. If you're interested in Green Walls in Toronto, contact Terra Design today.
Create a Unique and Inviting Atmosphere With Living Walls in Toronto and the GTA
Living walls are a unique and eye-catching addition to any space, and Terra Design offers living walls in Toronto that are sure to impress. Terra Design's living walls are made with high-quality materials and expert craftsmanship, adding a touch of beauty to your home or office. Whether you're looking for a striking focal point for your living room or an elegant addition to your office lobby, our living walls are a perfect choice.