Preserved Moss Walls in Toronto
Indoor Moss Walls For Homes and Businesses
Our maintenance-free preserved moss walls in Toronto and Canada make a magnificent central focus for commercial buildings, houses, and other indoor spaces. We collaborate closely with our clients to tailor their moss art wall projects based on their design concept and take pride in delivering each of our clients something genuinely unique. We offer a spread of species of real mosses, floral, and foliage that are conserved with plant-based glycerin to maintain their freshness. Consider our moss wall installation services in your home or business by our experienced team here at Terra Design.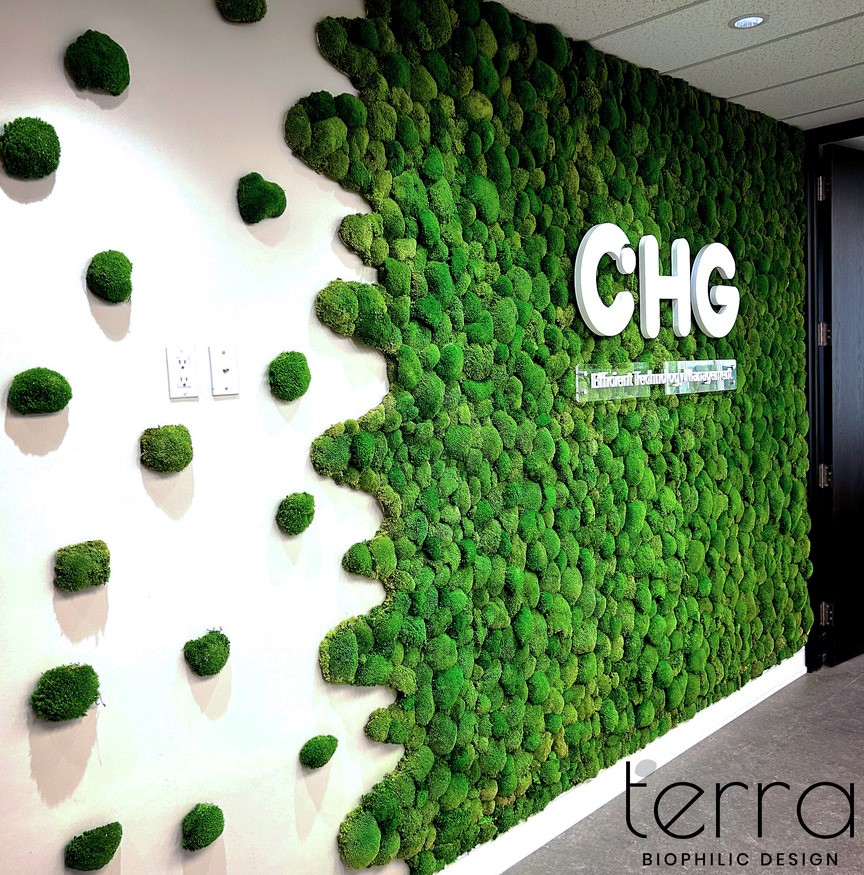 Moss Walls By Terra Design
Preserved moss Walls by Terra Design is an excellent hassle-free green wall solution that requires no maintenance. Forget about trimming, lighting or watering, preserved moss walls stay lush and green for years to come and add a perfect biophilic touch to any space. Moss walls also offer extra insulation for your home and can even reduce your bills. Preserved moss walls by Terra Design can be branded with your company logo or have it framed for a perfect moss wall art. If you need a moss wall in Toronto or GTA, please contact us and you won't be disappointed.
Moss Walls Art by Terra Design is a unique and beautiful way to bring nature into your home or office. Moss is a natural air purifier, is absorbent of noise, and has anti-bacterial properties. Moss Walls Art by Terra Design will enhance any space with its textural beauty, color, and organic shapes. Moss Walls Art is easy to care for and requires no special lighting or watering.
These beautiful pieces are perfect for adding a touch of nature to any space. Preserved moss is a type of moss that has been treated with a preservative, which helps to extend its lifespan. Unlike live moss, preserved moss does not require watering or direct sunlight, making it a hassle-free option for busy homeowners. Preserved moss walls are also incredibly versatile; they can be used as accent pieces, privacy screens, or artwork. Whether you're looking to add a bit of greenery to your home or office,
If you're looking to add some greenery to your home or office, don't stop with potted plants. Moss walls can absorb the pollutants present in air and rain. This allows the bacteria to grow into the moss's biomass instead of polluting the air.
According to latest research having a moss wall in your space will positively affect your productivity levels.
Having a moss wall will for sure brighten your mood on a dull day.